The Spirit Awards event is for GTHA Members only.
Join us at our 7th Annual Spirit Awards event honouring the service, professionalism and innovation of outstanding employees in the hotel industry. Celebrate with 500+ exceptional people who are industry leaders and represent the face of tourism in Greater Toronto Area.

As the industry Association for the Greater Toronto Area representing hotels in Toronto, Mississauga, Brampton, Richmond Hill, Markham and Vaughan, the GTHA encourages and works together with our members to recognize the front line and "heart of the house" staff for their "Spirit" and service to our guests. We are proud of the key role they play as the Ambassadors of the GTA representing an integral part of the visitor satisfaction experience.
In 2017 over five hundred and seventy members of the Greater Toronto Hotel Association gathered on Friday, May 12, 2017 to honour exceptional Ambassadors in the region's hotel industry. The sixth annual Spirit Awards Luncheon presented by the Greater Toronto Hotel Association recognized 242 nominees and 18 award winners for their outstanding contributions in our industry.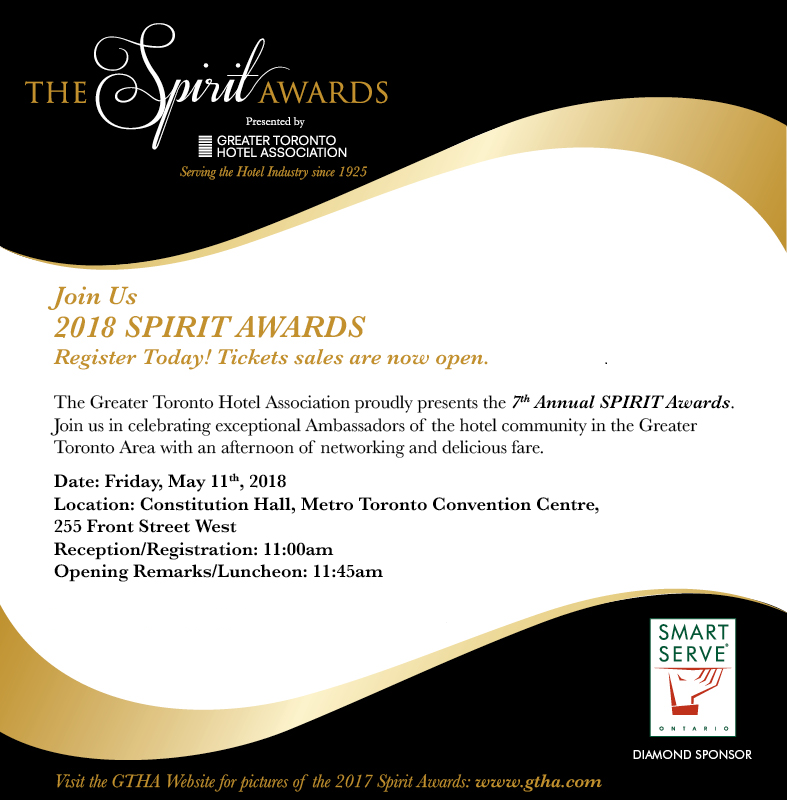 - REGISTER TODAY: To purchase a table and register for this event, please click here.
- NOMINATIONS ARE NOW CLOSED: Submit your nominees' photos by Mar. 29th! Click here for more details.
- EVENT SPONSORS: Thank you to our event and industry supporters! To become a sponsor, please click here.
If you have any questions, please contact the GTHA office at 416-351-1276 or via email at spiritawards@gtha.com